Another super post from Nicole ,thank you !
Lots of neat new things at Collab88, here I've got one of the two styles lamb is offering for 88L a color pack. I was glad to see that the old collab88 hair from lamb is now on sale at the mainstore too. There is also a hunt going on with 6 skirts and tops to find hidden in little candies. I've got the skirt on and it's pretty neat, I haven't seen a sculpted skirt quite like it before. There are two prims that attach to the legs so the skirt seems to move, and the texturing is done so that it looks smooth and blends in with the pants.
The Dressing Room has a new collection out too and I got this dark skin with heavy orange eyeshadow for 70L. The eye and lip makeover was an old group gift from Mock, it suits the skin perfectly I think. Especially the eyes… it adds depth. The jewely set is the new release from Jamman that I blogged last time, but now in gold. 399L for the set with earrings, bangles and necklace.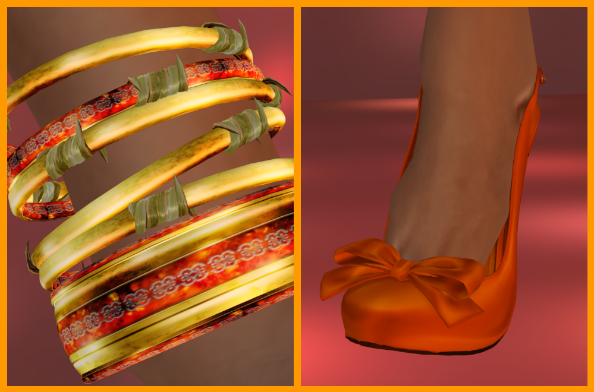 Credits -
Hair: !lamb. Glass Candy – Left-Brained (
c88
)
Hairbase:
LOQ
Hair" Shaved Hairbase
Skin: -Glam Affair- Gio Dark – Arancio D (
the dressing room
)
Eyes:
Ibanez
– Bastet Eye Base – Inferno
Makeup: [
Mock
] Flaming Lips Makeover {eye/lip}
Top:
*elymode*
Joell top – pumpkin/brown
Skirt: The Sea Hole – Odette Culottes – Persimmon (
c88
)
Jewelry:
Jamman Jewels
– Barbewire Gold Red Set
Shoes:
G Field
- Ribbon Slingback Shoes
Poses:
Oracul
– Posing Lady